Tagline
A platform supporting the bilingual language development efforts of Cayan Education
Thumbnail
Image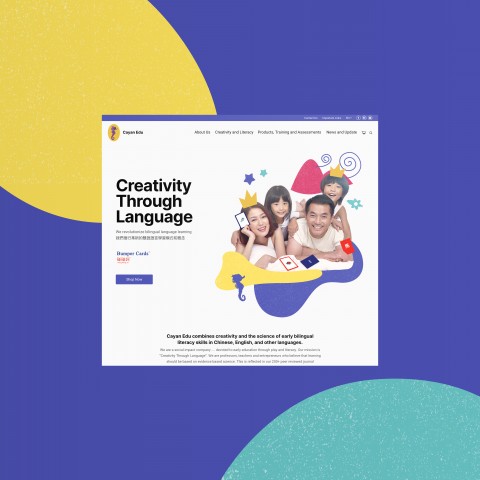 Sections
Text
To achieve the goal, we reorganized the information architecture based on the research findings and the company's philosophy. This helped build confidence and support for their products. Customers coming to the site can now easily search for content, whether it's products, services or relevant information.
Title
An energetic and vibrant look and feel
Text
Visuals speak louder. A combination of cheerful images and hand-drawn graphics represent a fun learning vibe, following the company's belief that education should be fun and informative. Through the use of illustrations to convey Cayan's learning ideas as well as its branding strategy, this helped Cayan stand out from its competitors.
Images
Image

Text
Cayan Education takes on a new concept for language learning. With such an interesting take on a rather traditional effort, it was important that we conveyed this all throughout the design of the site.
We used a lot of visual elements - images, icons, graphics, to illustrate the information in a cheerful way. We used a palette of bright colours for an energetic approach while creating a visual balance by keeping the background white on all pages.
To ensure the site is easy to maintain, we crafted a full design system library for the internal team to choose from that is also flexible for future content.
Text
We took a headless approach using Drupal for it's robust API-driven architecture, and NextJS for it's lightning fast rendering. Using this approach helped us to synergize fully with design system, since we could build components in isolation from the backend logic.
Overview
Cayan Education needed an overhaul on its online platform, to develop a vibrant and appealing website for creative learning of languages. The main challenge was to combine education and e-commerce with a soft sales approach. The platform was built in Drupal for its robust API-driven architecture and NextJS for its lightning fast rendering.