Tagline
Enhancing HKUST students' academic experience with the highest quality support services.
Thumbnail
Image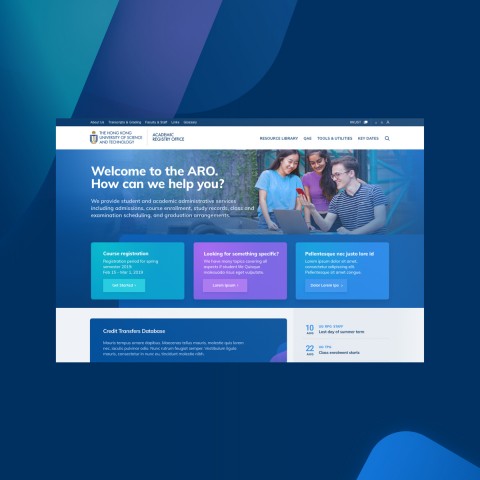 Sections
Text
A concise and clear online platform for students and staff with a centralised content library that prioritises useful information. We made sure the platform was easy to update and manage to improve internal processes for staff.
Results
Text
Sites group into one
Title
A clear information architecture to cater for the vast needs of HKUST members
Text
We stepped into the clients' shoes, worked closely with their team, defined the target audience, user flow, and prioritized the data. We designed a refreshed feel and clean aesthetic for the platform. The brand new UI perfectly fits in with our project strategy to support ARO's goal.
Images
Image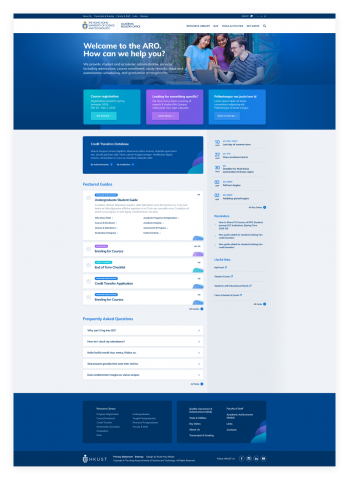 Image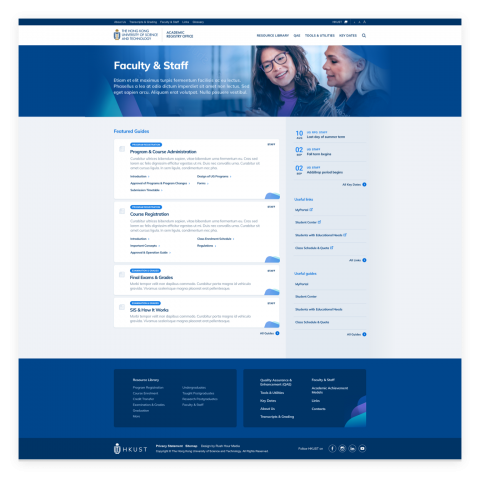 Text
We started by assessing various content and reorganised them into sections and categories. We took into consideration all the different use cases and scenarios for other libraries. While doing so, we consolidated key user flows to come up with a content structure.
All in all, the main approach was to make sure the information being displayed stays relevant to the user at any given time ensuring efficiency and effectiveness.
Text
The colours we chose were designed to match HKUST's branding colour to display the university's qualities of trustworthiness and expertise. We carefully selected a good contrast between a dark shade of blue and a lighter yet brighter shade of blue. We added purple into the palette to give it warmth.
As the site is quite content heavy, we designed the layout in a way that the user will not drown in all the information. We provided breaks to keep the user interested, used contrast to communicate the level of importance of the information and lastly we provided relevant content to encourage the user to continuously engaging with the site
Text
This project provided our development team with lots of exciting challenges. The site was built on top of HKUST's Drupal Distribution. We implemented periodic daily API imports from UST's credit transfer API, pulling in over 11,000 course records from various educational organisations and programmes across the world, and developing search pages for users to easily get accurate information on course mappings. We also developed a resource section for user guides and relevant documents for UST students and staff to use.
Text
It was a pleasure to develop this project for HKUST's academic registry. The biggest challenge was building UST's vast credit transfer database of courses from all over the world, and their extensive resource library. We were able to successfully develop a data-driven product with a strong focus on performance, intuitive UI and delivering a high quality user experience.
Overview
We delivered a comprehensive online platform for The Academic Registry of HKUST that aims to provide a range of services that enable HKUST students and scholars to thrive.