Tagline
A pioneering design and experience for Jebsen and their 200 premium leading brands
Thumbnail
Image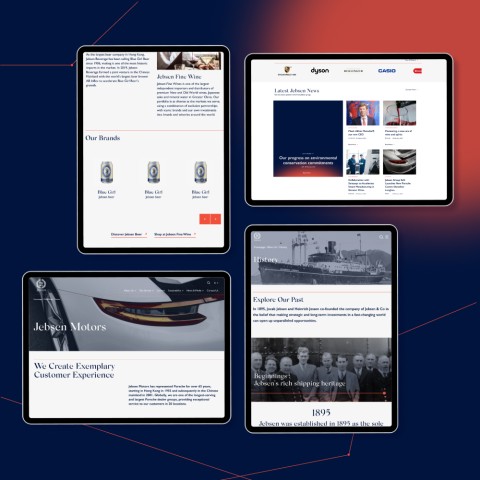 Sections
Text
A digital experience that truly speaks of Jebsen's globally competitive premium brands. The end product not only delivers on its intention, but also one that has streamlined their internal team's work for updates.
Title
Pushing the boundaries
Text
Our team found working on this project challenging as well as inspiring. To visually speak for a company that represents brands of such high standards is no easy feat. 
Images
Image

Text
Jebsite site is cutting-edge design on an efficient architecture. It was integral to prioritise implementing the structure first then build the UI that catered to Jebsen's portfolio of businesses. Each element of the design had to be crafted to ensure they encapsulated Jebsen's brand values. To ensure the site is easy to maintain, we created a full design system library for the internal team that is flexible for future content.
Text
Jebsen is built on Wordpress as a multi-lingual site to cater to the company's diverse reach. The site is built using reusable components. Not only did this help us build the site much faster, the consistency of the wide selection of components enables the client to customise the site without losing brand compliance.
Overview
Jebsen offers over 200 of the world's premium brands extensive and specialised local market access. The challenge was to rebuild a platform that not only best represents their brands but to provide new brands with an experience journey that converts.